While travelling with a group can be exciting, it can also be difficult to find the ideal mode of transportation. It may so happen that you find it difficult to select a safe and comfortable mode of transportation for your group. Fortunately, Maxicab services in Singapore from us at Bon Limos can be the best option that you can select for group transportation. Our Maxicab services are a great option for a varied range of travel requirements because it is possible to have roomy and comfortable transportation for groups of all sizes.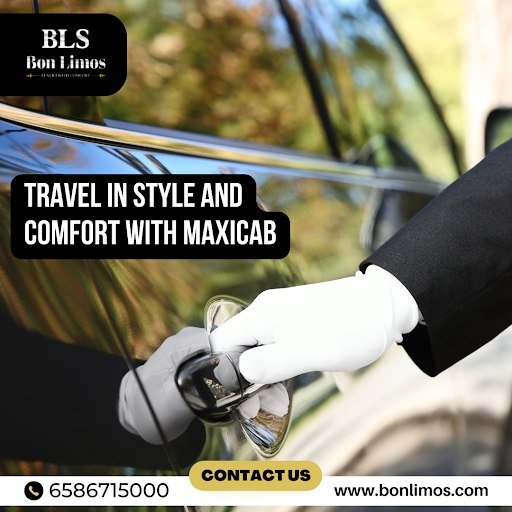 Airport Transfer, Limo Service SingaporeMaxicab services are growing more and more well-liked since they provide a convenient mode of transportation, particularly for bigger parties when they desire to have the best airport transfer. Here are a few advantages that you can enjoy having Maxicab services for group transportation from us. Let us have a look at some of those.
Convenient and large
Maxicab services and our chauffeur driven limo service in Singapore are great options for group travel because they are roomy and comfortable. These cars are made to have lots of room for people and their stuff, making the trip comfortable. Without having to worry about being crammed into a small space, passengers can unwind and enjoy the voyage.
Cost-effective
Maxicab services along with our limo service in Singapore are an affordable option for moving a large group of people. Maxicab services provide a more inexpensive solution to paying for individual transportation or renting many vehicles. You can cut costs on transportation by travelling in groups and pooling your resources.
Convenient
Because Maxicab services are practical and adaptable, you can customise your travel schedule to meet your needs. Maxicab services can meet your demands whether you have several destinations to visit or need to stop somewhere along the road. Additionally, you can travel at any time of day or night thanks to the 24/7 availability of our Maxicab services.
Reliable
You will arrive at your location on time because of the dependability of our Maxicab services. Our drivers are competent and skilled, and they are aware of the best routes to follow to reduce traffic. Additionally, we monitor our vehicles with GPS tracking technology to ensure that it is possible to have timely services.
Safe
We put passengers' safety first and foremost. We only work with licenced, experienced drivers who have undertaken thorough training and background checks. Additionally, to keep them in top working order, the vehicles receive regular maintenance and servicing.
Customizable
As our Maxicab services are flexible, you can select the kind of vehicle that best meets your requirements. Maxicab services can supply you with a car that can accommodate a wheelchair or one that has more room for your bags.
Additionally, a variety of vehicles, including luxurious vans, minibuses, and coaches, are available to suit your needs and preferences.
The most comfortable, convenient, and affordable group transportation is provided by our Maxicab services in Singapore. We make it possible to have a hassle-free method to get to your destination whether you are travelling with family, friends, or a group of employees on a business trip. To make your next group trip comfortable, secure, and memorable, think about employing our Maxicab services.