Ride with one of the most premium limo services of Singapore, Bon Limos. Our services are highly professional being managed by experts of the industry, making Bon Limos a very trustworthy ride partner for leisure, business, and every travel need. Thus, if you are in need of a quick ride, call Bon Limos. We will be offering you the fastest limo service. We understand every growing needs of clients, which helps us develop our services while maintaining quality at its best. You get the most perfect quality ride for any of your travel needs when choosing Bon Limos. We are the best solution to rely upon for highest quality travel at a very affordable price.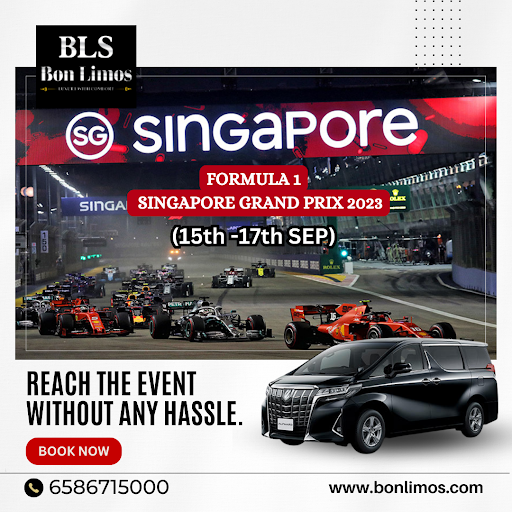 Bon Limos is a local limo company dedicated to offering comfortable service based on client needs. Get the most secure ride by choosing our company. You can completely trust us for the quality we offer. We have been serving Singapore with the best quality limo rides for every business ride, airport ride, etc. Our fleets are highly maintained, ensuring clients get the best value. Thus, there is nothing to worry about; everything will be smooth as there is us to serve you our highly professional limousine services. We have Viano, Mini Bus, and more. Every vehicle is well cleaned to give hygienic rides to customers.
Formula 1 Singapore Grand Prix 2023: Every ride of our company gives you peace of mind, which is why you can completely trust us for quick, flexible ride booking.
Traveling with the group or individually? Don't worry, Bon Limos can cater to any size, as there is a vast fleet selection available to cater to the varied travel needs of clients looking for easy travel around Singapore.
There's a lot to explore in Singapore, so whether you are up for a leisure ride or have a meeting planned, we are the best service to book your ride from. Ride peacefully to your destination in Singapore by reserving your ride quickly.
There are very well-trained customer support who would help you if you have any queries regarding booking or the rides offered. Your whole ride would be relaxing. Our chauffeurs are highly courteous and well trained to ensure clients have the most comfortable ride in Singapore.
Thus, let Bon Limos understand your travel plans to arrange the best ride for you at the best value.
Booking us is easy, so what are you worrying about? Reserve your ride securely at Bon Limos, the expert of luxurious rides in Singapore.
Travel safely by booking rides of a reliable limo service.